THE TRAIN OF PELION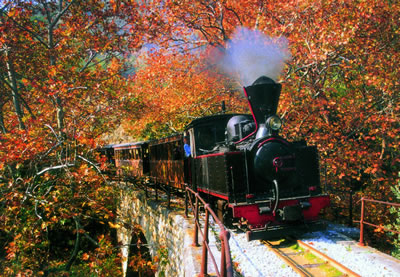 The historic railway of Volos - Milies, the Pelion train, as it is best known, was constructed in two stages from 1894 to 1903.
The legendary "Moutzouris" now linked the commercial and industrial center of Volos with the fertile and rich area of West Pelion, on the slopes and olive groves of the Centaur Mountains.
Until 1950 the train with the Belgian engines "Miliai", "Iasson", "Pelion", "Volos", "Tsagarada" and its wagons, with smaller machines served the needs of the city as a tram for the urban transport of Volos . For 80 years it has been a reference point for the wider region. After its abolition in 1971, efforts were made to reopen the (museum) tourist railway in an environment of particular natural beauty. After major reconstruction of part of the infrastructure, it was reopened in 1996.
Two-month work was needed to re-start the routes to remove soil from landslides and to deal with problems caused by corrosion.
Its line, 60 cm wide, is the narrowest railway line in Greece and one of the narrowest in the world. The route of Ano Lechonia - Milies, in green slopes and with the beautiful view of the Pagasitic Gulf, passes through the picturesque stone arches over eight stone-built bridges with chiseled marble-stone (dittoxes, three-axes and a five-stroke) and a metallic bridge where the curve line is written in a straight line, according to the designs of the famous bridges of the time. The Italian engineer Evaristo de Chirico was responsible for the construction of the line.He was the father of the famous surrealist painter Giorgio de Chirico, who depicted the small train figure on some of his famous paintings.
The train was re-traveled on the line of Ano Lechonia - Milies, 15 km long. The route lasts 90 minutes, with a 15-minute stop at Ano Gatzea and its maximum speed is 20 km per hour.
There are traditional rolling stock, 1903 and 1912 steam locomotives, wooden wagons with balconies and two new tunnels acquired by OSE in 2000.
Related files