AGRIA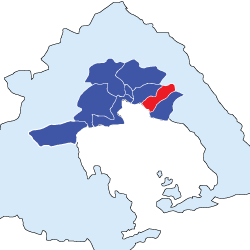 The municipal unit (former municipality) of Agria occupies an area of 25.2 km2. and has a total population of 6,122 inhabitants. It is located on the slopes of Mount Pelion , north of the Volos town complex with which it is connected.
The former municipality operated from 1999 to 2010 based in Agria .
It includes the following municipalities and settlements:
Community of Agria - Agria [5.229 inhabitants]
Community of Drakeia [883 inhabitants]

the Drakeia [575]
Anemacha [31]
the Hania [277]
To reach Agria, follow the coastal road from Volos to the central and south-eastern Pelion, 4 km from Volos. Following the coastal route you will find the narrow railway line next to you from the unique train of Pelion, which will meet the summer season during the Volos-Agria route.
In Agria, with the 3.5 km coastline, you can enjoy fresh fish in the restaurants or the ouzo as well as your coffee next to the waves.There are accommodations for your stay and from Easter, then the newly built large hotel unit with a multipurpose space such as conferences, events etc. will work on the beach of Agria.
From Agria you can go to the martyr village of Drakeia, the beautiful Pelion village with the traditional Pelion mansions, the traditional hostels and the local delicacies. The rich waters flowing in streams and grooves preserve the greenery that enchants the visitor.
Then you can climb to the top of Mount Pelion, in the mountain of Centaurs, where you will meet Chania with the ski center of Pelion. Hania Pelion is a summer and winter resort, where in the summer you can enjoy the coolness of the area in the fine hotels combined with the traditional food and the coffee in the cafes of Chania and in the winter you can enjoy the skiing at the sports ski resort of Pelion.