CURRICULUM VITAE OF ACHILLES MPEOS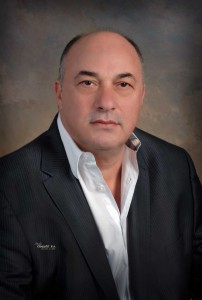 Husband and father of five children of Argyros, Eutychius, Christina, Nikolas and Achilleas, and being myself child of a large family, I was born in 1959 in Volos, from where we moved with my family in Athens and Nea Smyrni, when I was in my teenage years. In those years, I was nurtured with the principles and values of my father, who taught me that dignity, respect and family are the most important things in the world. At the same time, I learned to love sports and especially my neighborhood team, in whose stadium literraly I grew up, Panionios.
In the early 1980s, in search of a better future, I migrated to the United States of America, where I was very successfully active in hospitality and entertainment industries, creating a serious financial background, but refused to accept American Citizenship because I was asked to state that in case of US involvement with my hometown, I had to take their place. In 1996 I returned to Greece and took over for the first management position in the Panionios Nea Smyrni team, marking an excellent course in the First National Division, which ended in the european qualification, where I left in 2006, refusing to compromise, as I have never done in my life, with a some of the fans who saw Panionios as a means of livelihood and personal promotion.
In 2008, I returned to the city I was born, taking over the management of one of its two teams, OLYMPIACOS VOLOU, with the sole aim of creating a large football club that at that time was failing do both administratively and economically, which I did with the unwavering support of my associates and the fans, as we not only emerged from the impasse, but we had an excellent round in Greece's First National Division and achieved european qualification.
In the summer of 2011, with an unacceptable and totally illegal political intervention, the OLYMPIACOS VOLOU club was punished with temporary extinction, from which both the club itself and the city suffered great financial damage, while I was in a loose and prefabricated indictment I was led, through a roman type tv show, in prison.
Faithful to the principles with which I grew up, I handle all my professional activities, with a high sense of responsibility, working tirelessly, conscientiously and responsibly, enjoying a special appreciation and respect even from my opponents, passionately fighting all those who, in all the manifestations of social activities try to take opportunistic benefits for their own benefit, disregarding the society as a whole.