NEA IONIA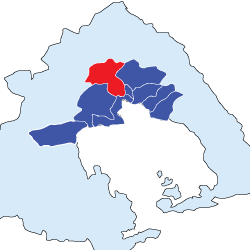 Nea Ionia is the second largest municipality of the prefecture of Magnesia, after the Municipality of Volos, with which it constitutes a single Town Planning Complex. A natural boundary between the city of Volos and the city of N. Ionia is the river Krasidonas. Its population according to the 2001 census amounts to 32.979 inhabitants. The population of the entire urban complex is 123.119 inhabitants.
The history of the place is directly linked to the Asia Minor catastrophe, the arson of Smyrna and the uprooting of 1,500,000 Greeks in Asia Minor in August 1922 from their flourishing ancestral homes.
At the end of autumn of 1924, in the anhydrous area of Xirokambos above the torrent of Krasidon, the first refugee houses were created in the first phase for about 2,000 people, the so-called Squares creating the refugee settlement of Volos, Nea Ionia. In the summer of 1925, the so-called Cementnaia was erected to the west of the central square and a few years ago to Petrina, to the west, where along with its Jamailiotic and German east, there are still permanent remains - some of them with the old their first form - giving Nea Ionia a distinct physiognomy.
Until 1947, it was a single municipality along with Volos, the municipality of Pagasson. By royal decree for political reasons it was decided to divide it from Volos.